Important note on finances
It is not expected that any CCUWiP delegate will pay out of their pocket to attend the conference. 
These are the possible expenses related to attending CCUWiP 2024:
The CAD$60 in-person registration fee;

OR, the CAD$30 remote registration fee;

AND (if applicable) travel to and from Montréal;
AND (if applicable) poster printing.
For in-person delegates, the registration fee includes all local transportation, lodging, and meals for the duration of the conference (January 19th-21st exclusively). 
There are several options available to you to cover the expenses listed above: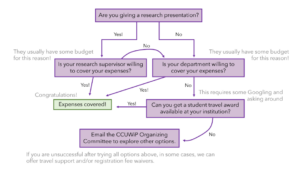 ---
Note importante sur les frais reliés à la participation
Il n'est pas attendu qu'un.e délégué.e de la CCUWiP paie de sa poche pour assister à la conférence.
Voici les dépenses possibles liées à la participation à CCUWiP 2024 :
Les frais d'inscription en personne de 60 $ CAD ;

OU les frais d'inscription à distance de 30 $ CAD ;

ET (si applicable) les frais de déplacement aller-retour vers Montréal ;
ET (si applicable) l'impression de poster, le cas échéant.
Pour les personnes participant sur place, les frais d'inscription comprennent tous les transports locaux, l'hébergement et les repas pendant toute la durée de la conférence.
Plusieurs options s'offrent à vous pour couvrir les dépenses énumérées ci-dessus :